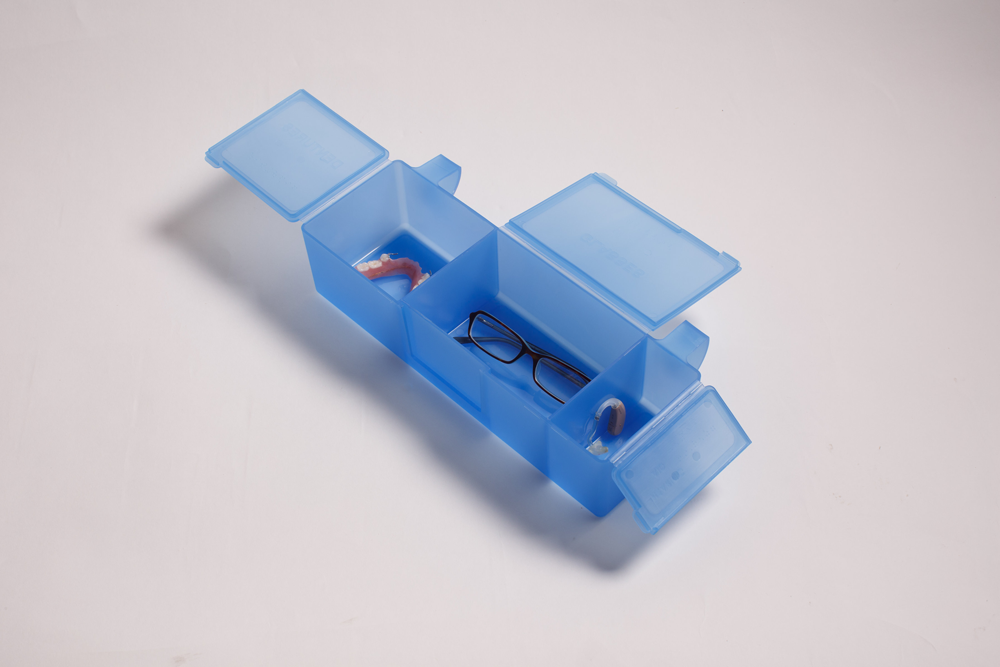 Durable Personal Belongings Case
Our durable personal belongings case is made of PHP (Polypropylene Homopolymer Plastic) and is 100% dishwasher safe. You can continue to use this case for six to twelve months and then recycle it. Multiple compartments allow for easy storage of multiple personal items.
Pricing based on quantity. Please contact our team for current rates.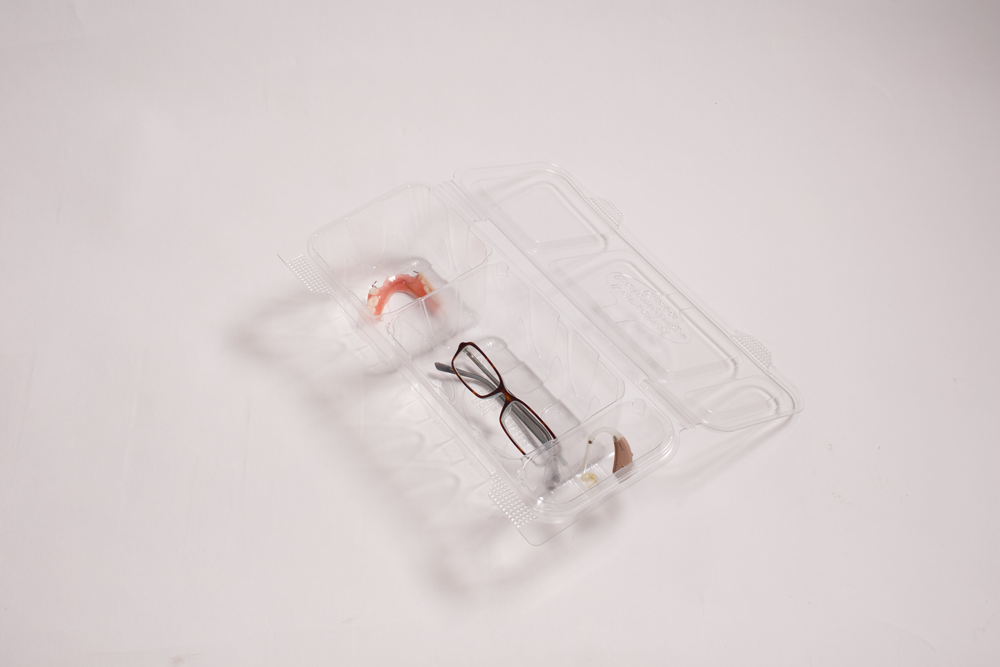 Disposable Personal Belongings Case
Our clear disposable personal belongings case is made from PET (Polyethylene Terephthalate) and is intended for short term/single use. A great option for outpatient procedures and short term hospital stays.
Pricing based on quantity. Please contact our team for current rates.
About the Personal Belongings Case
Purpose
Used by hospitals, rehabilitation units, and long-term and personal care facilities to help prevent the loss and damage of hearing aids, dentures, eyeglasses, and other personal care items — decreasing facility costs and increasing patient satisfaction.
Benefits
Convenient and highly visible, the Personal Belongings Case allows easy access to personal care items for staff, patients, residents, and family members. It also provides staff accountability for the daily inventory of personal belongings.
Cost Savings
Replacement estimates: dentures, $500 – $900; specialist visits, $100 – $300; hearing aids, $2,000 – $4,000; eyeglasses, $200 – $500. Eliminate replacement costs, as well as those of staff accompaniment to out-of-facility appointments and transportation.
Design
The Personal Belongings Case is 12 inches long, 4 inches wide, and 3 inches high. It has curved hooks on the back that allow it to attach to beds of various sizes. The medical-grade case is stackable for the convenience of storage, and all compartments are separate to prevent cross-contamination. Each compartment lid is individually labeled in both English and Braille. An area in the front has been designed to hold a resident or patient identifier, used in hospitals and long-term care and personal care facilities.
What It Does
The Personal Belongings Case helps prevent personal items from being lost or broken. It provides a highly visible and easily accessible storage container for patient and resident belongings at nursing stations. Items aren't lost, so there's no need to spend thousands of dollars on replacements. Nursing hours can be spent more efficiently on patient and resident care — not wasted searching for lost items or making return trips for misplaced effects.
Documents

Please download and view the important documents below.
Cost-Savings Study Completed by LGH Healthcare System
See the cost savings that can be realized by using the Personal Belongings Case.
Disposable Personal Belongings Case Spec Sheet
Design Specifications for the Disposable (One-Time Use) Personal Belongings Case
Durable Personal Belongings Case Spec Sheet
Design Specifications for the Durable (Ongoing-Use) Personal Belongings Case